In today's world, software development processes evolve every day, and project teams' evolution accompanied it. It's hard to imagine efficient development teams without Agile methodologies and Task Tracking services and Project Managers (PMs) driving the entire organization of the software development process.  PM organizes the workflow, communicates with stakeholders, and works with goals, budgets, and schedules. 
But it wasn't always so. The last 10 years have been a "big boom" for project managers. In the 2000s, almost all Project Managers had development experience. But in the second half of the 2010s, companies started to look for Project Managers without a previous technical background. It was happening because of a lack of specialists and budgets. Not all developers were looking to become PMs. A lot of them wanted to stay developers moving only to Senior and Architecture positions. A huge number of newcomers were ready to join the teams for reasonable wages. Therefore, it was quite profitable to involve less experienced but more enthusiastic and motivated talents. .
Now, the variety of open positions can be confusing for people who are trying to dive into this job. It's not pretty clear what about the tech background? Is it compulsory or just nice to have?

Related: Role of Project Manager in App Development Process

Technical Project Manager vs Project Manager: Who is Better
I believe the tech experience is not a must-have for Project Managers. But it depends on the many variables of the project team and company. Let's look at it deeper. If the company has an entire tech team with Architecture, Business Analysts, and Technical Leads, and if the project isn't about a specific industry – it's better to involve a Project Manager without a tech background. There would be almost no case where a Technical Project Manager (TPM) would show expertise if it's not a technically challenging project. Therefore corporate websites or simple CRM creation and company processes work can be delegated to a Project Manager without any technical background. But don't forget that this position anyway requires excellent management skills to ensure future project success.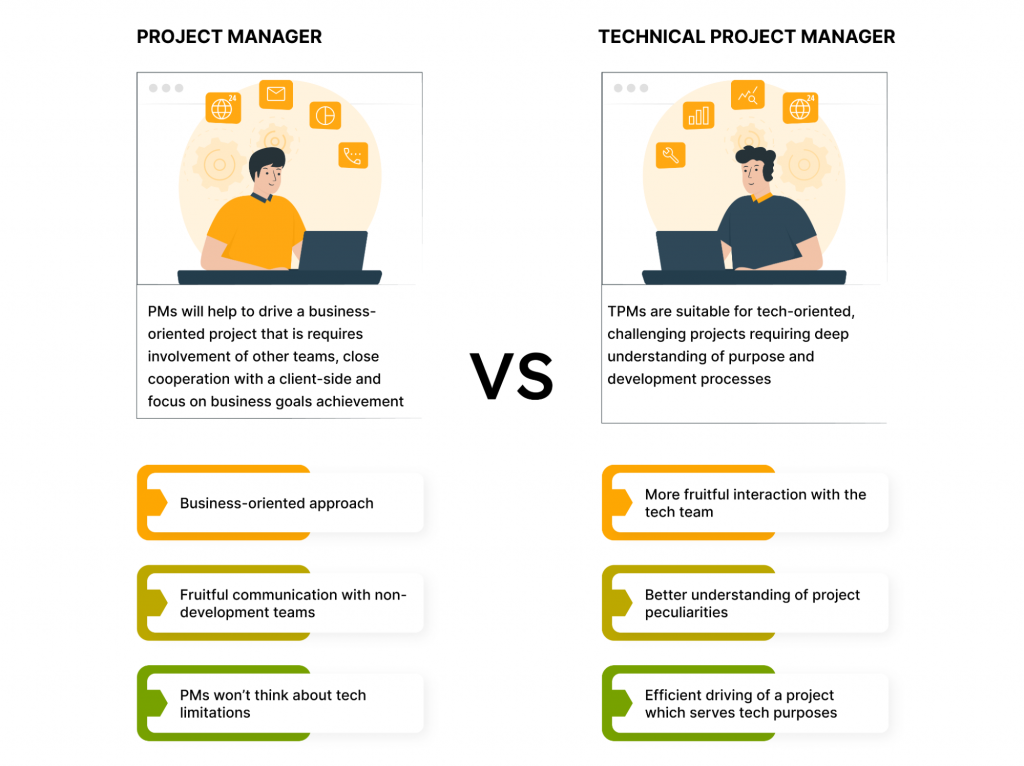 But on the other hand, a technical background could help a Project Manager dive deeper into the whole system, build efficient communication with the development team and know for sure how to manage a technical project. It seems that both cases are applicable and have their dos, so let's explore them below.
Pros of Tech Project Manager
1. More fruitful interaction with the tech team
One of the most important project manager skills is communication with the team and stakeholders. In this field, TPMs have the advantage of knowing technical terms. They can talk with developers in the same language. It always helps find a common ground and build strong working relationships with engineers.
2. Better understanding of project peculiarities
Project Managers with a tech background can completely understand project architecture, technical tasks, and the process of their estimation. It could help save the budget and design the product in a fraction of time. Here, a manager could set up priorities in the right way and split crucial tasks from less important ones. Moreover, TPMs can even advise on integrations and system designing helping the team find a proper direction.
3. Efficient driving of a project which serves tech purposes
Let's take the creation of software for POS terminals as an example. In this type of project, the PM should definitely understand its goal and the scope of tasks. Otherwise, the project has a high risk of failure.

Related: Challenges in Software Development Projects

Pros of Project Manager
1. Business-oriented approach
Non-technical project managers mostly have business or manager education and experience. It would help them to focus on the business aspects of the project rather than on technical. This type of management would spend less time on micromanagement and more on reviewing users' needs.
2. Fruitful communication with non-development teams
Software development often requires the involvement of other departments which hardly understand the tech side of the project. So, Project Manager can be a middle layer here, connecting developers with other teams such as marketing one. The non-technical PM would have easier interaction with them, because they will speak more in business language than technical.
3. PMs won't think about tech limitations
Non-tech Project Management have project targets, which need to be completed. They are focused on them, meanwhile the development team can take care of technical implementation.

Summary
As seen, you can involve different Project Managers depending on your business requirements and goals. Anyway, your choice will be right. From my point of view and experience, I'm more imprinted by technical project management. But as it was mentioned  before, there are projects which non-technical people can complete better. The best would be a combination of both sides of management. 
If you're looking for a way to involve different Project Managers to your app development – consider the IDAP team. Contact our sales team to explore how we can help you manage your project efficiently.