Introduction
It is hard to find a person that doesn't remember good-old Clippy that appeared every time you opened a new document in Microsoft Office. Back then, it helped you figure out your way around the diverse functionality of the apps included in this software suite and just have fun. This assistant disappeared at the beginning of 2000s, but a decade later it got replaced with personal assistants of a new generation – AI-based ones. In this article, we are going to review the best personal assistant apps.
Virtual Assistant App: Our Top 10
Without further ado, let's get acquainted with our list of 10 virtual assistants you should definitely pay your attention to.
#1. Siri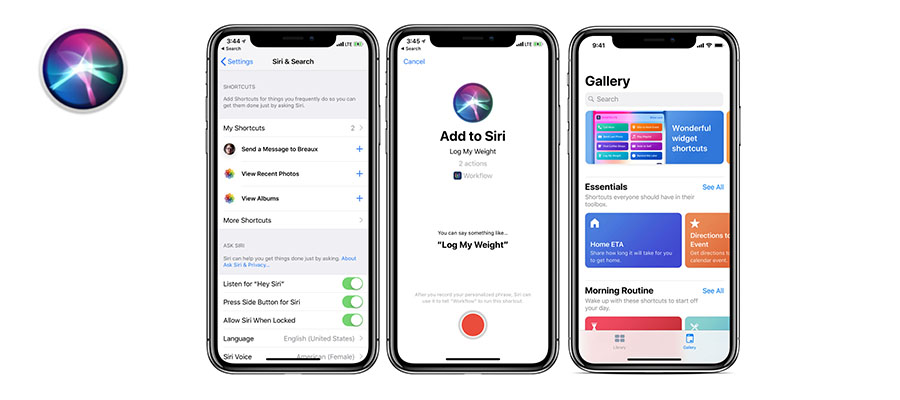 Siri is, perhaps, the most widely known (and the most popular) personal assistant for iOS smartphones, tablets, smartwatches, and smart TVs. It allows its users to get answers to their questions and performs tasks related to their device functionality using voice commands, all in an interactive form. It is activated by pressing and holding down the 'Home' button on iPhones and iPads.
The key advantages include:
precise voice recognition with the ability to have conversations (the app sometimes even voices its own thoughts and jokes);
being simple in use;
the ability to interact with certain 'smart home' components;
high awareness about the latest news;
generating great recommendations (like what to watch, where to go on the weekend, etc.).
In turn, Siri's disadvantages, according to its users, are a lack of integration with many third-party services and low performance compared to Alexa, Alisa, etc.
Even though Siri is a prototype of all other voice assistants existing today, its creators haven't put enough effort into making it even better. This is why its AI is far behind its more fresh competitors. Besides, as there is no open API, Siri can't interact with the apps that are not pre-installed as default on Apple devices. We would like to hope the Apple development team will solve this issue as such integration has become almost obligatory for any AI-based voice assistant today.
Overview
Can have a direct dialogue;

Knows its way around news and recommendations;

Interacts with some 'smart home' components;

Simple in use.

Doesn't interact with most third-party apps;

Sometimes freezes and gets too slow.

Supported OS
#2. Alexa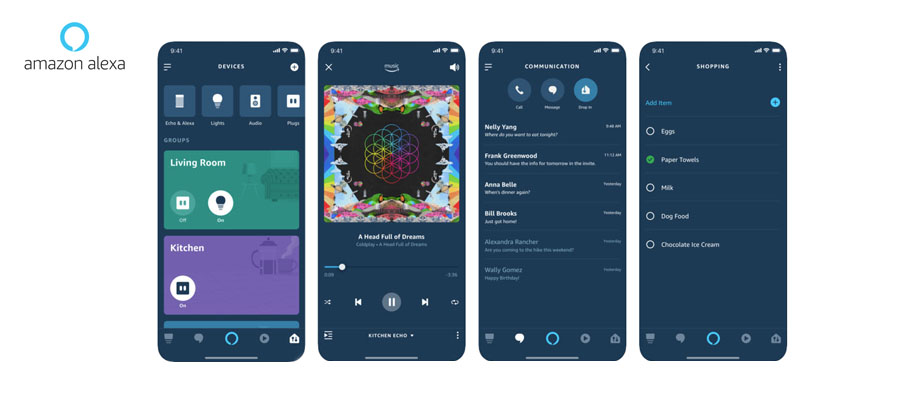 Alexa is a voice assistant created by Amazon. Therefore, Alexa is supported only by Amazon devices, such as Echo, Echo Dot, Tap, Fire TV, etc. With this intelligent helper, these devices can have any conversation with real people and fulfill such tasks as playing music, creating to-do lists, setting alarms, reading the latest news, etc.
However, Alexa's perks don't stop there. Thanks to an open API, it can be integrated with third-party devices. So, the devices operated by Alexa can become the central component (a remote controller, in other words) of a home automation system.
As for the drawbacks, they are not that substantial. The main downside is the limited range of operations – Alexa can fulfill only simple requests like 'order pizza' or 'tell me the weather forecast'. On the other hand, what else would an average user need?
Besides, even though Alexa is quite human-like, this assistant directs even funny questions towards purchasing something on Amazon. No wonder this irritates a lot of users. Moreover, lack of its own mobile platform adds some inconveniences to using this software solution.
Overview
Can have a lively meaningful conversation;

Can become the main controller for a smart home system;

Can be integrated with third-party software.

The task list is quite limited;

Is not supported by iOS and Android mobile devices.

Supported OS
#3. Cortana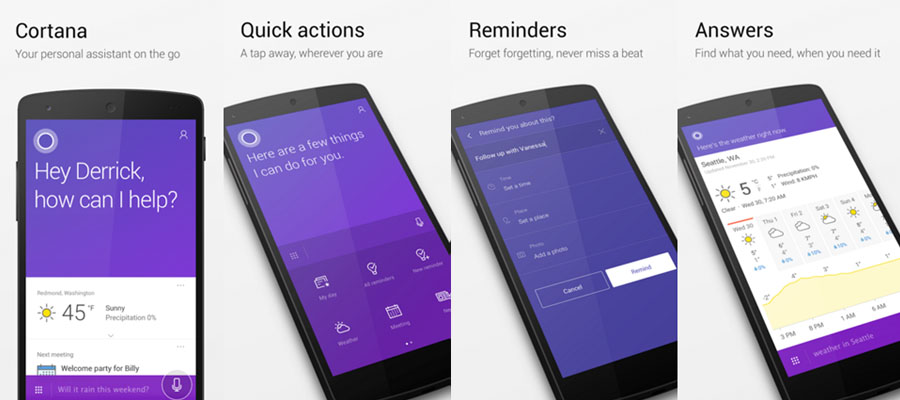 Cortana is one more widely known virtual assistant for Windows, iOS, and Android devices. Its most distinctive feature is the well-designed mechanism of interacting with users – Cortana makes good jokes, responds in a witty way to trivial questions, and some of its answers can even be in the form of a poem.
Besides, Cortana is loved by a vast range of available functionality – for instance, it can manage tasks, track parcels, inform users about the latest news and weather forecast, and so on. We can't help pointing out that Cortana can be integrated with third-party software without any effort, especially when it comes to Windows software suites. So, you can easily use Cortana's help to start chatting on Skype or work in Microsoft Office applications.
This phone assistant has truly insignificant drawbacks – iOS and Android users have access to the more limited Cortana functionality than those using its desktop version.
Overview
A wide range of available tasks;

Deep integration with Microsoft Office apps;

Integration with third-party apps.

Less features available for mobile version users than for desktop version ones.

Supported OS
#4. Alisa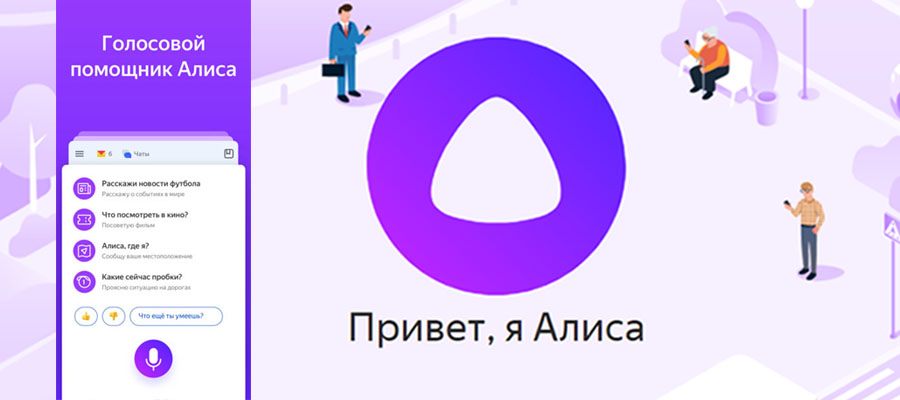 Alisa is a voice assistant created by Yandex, a Russian-based company. Thanks to advanced human speech recognition functionality (both in speech and in writing), Alisa can interact with real people at a high level. It can argue, joke, make witty comebacks and have an interesting conversation on various topics. (Users especially love its satiric opinions regarding Russian politics.)
In turn, Alisa's main purpose is to fulfill mundane tasks, both using Yandex services (like Yandex Search, Yandex Maps, Yandex Music etc.) and third-party software. However, in the latter case, the results are worse than in the former one. This is why users consider Alisa's main drawback to be lack of integration with many useful apps created by third-party vendors.
Overview
A witty solution that jokes and entertains users;

Well-integrated with Yandex apps and services.

Suitable only for Russian-speaking users;

Poorly designed integration with third-party apps.

Supported OS
#5. Google Now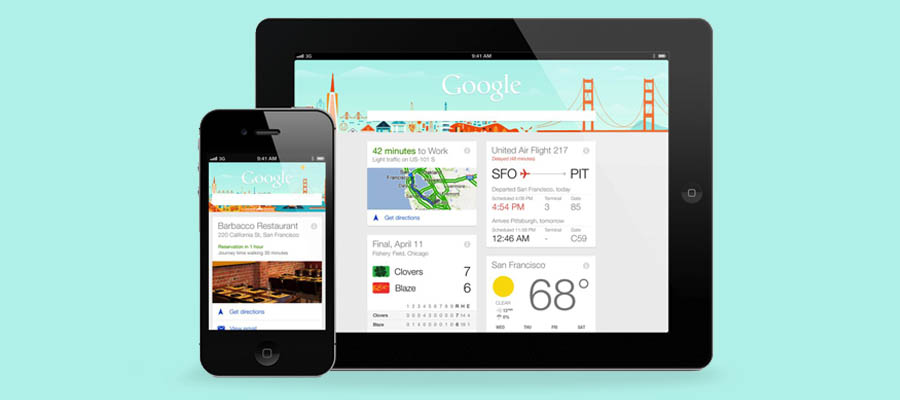 Google Now is among today's most well-thought-out and technologically advanced AI-based services. Thanks to the efforts of the best development minds on Google's team, this iOS and Android assistant can analyze your emails, search history, give directions, and interact with other apps efficiently (and those apps don't necessarily have to be Google ones). In our opinion, the availability of Google Now mobile versions for iOS and Android is a huge advantage as well.
Nevertheless, even Google Now has its downsides. Due to constant analysis of the colossal data flows related to users' activities on the Internet and/or the smartphone, they may get too much irrelevant information every now and then. For instance, if you google the photos of cats a couple of times, cat-related news will follow you everywhere.
Besides, Google Now doesn't find its application in smart home system control, unlike Alexa and other assistants. Finally, having a lively conversation is not one of Google Now's perks – it won't become your compassionate friend with a great sense of humor that helps you out when you're lonely.
Overview
A huge range of tasks that can be fulfilled;

Well-integrated with Google services;

Integration with third-party apps.

Provides users with a lot of unnecessary information.

Supported OS
#6. Facebook M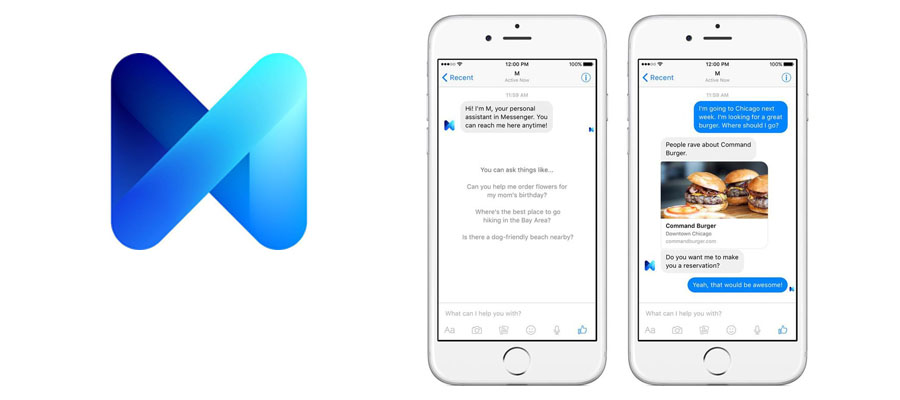 Announced in 2015, this assistant uses not only artificial intelligence technologies but also the brain power of real people. This is why it is good at recognizing the context during a conversation. Besides, this app can show stickers to users, send money or request a bank transfer, share locations, create plans, post surveys in group chats, ordering taxis using Lyft or Uber. It's hard not to admit what a great set of features this is, especially for the first build.
There is only one huge drawback to Facebook M: two and a half years after its launch, the project was shut down in January 2018. As it turned out, its main purpose was to collect data on what end users expect from a virtual assistant. So, we can start looking forward to getting something even more interesting and intelligent form Facebook in the nearest future.
Overview
A great set of features;

AI is combined with human work.

The project is already closed.

Supported OS
#7. SpeakToIt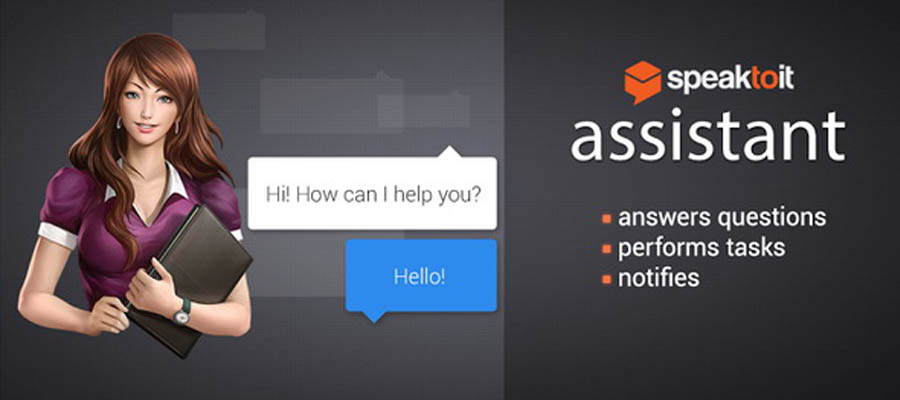 SpeakToIt is one more best voice app that is, in its essence, a complete copy of Siri. The only difference between these two voice assistants is that SpeakToIt allows learning custom user voice commands that can be used to activate particular smartphone functionality. Another distinctive feature is changing the gender and appearance of the assistant and its own toolkit for creating chatbots.
As for how human-like SpeakToIt appears to be, taking to Siri seems more natural to us. Nevertheless, you should try both assistants and see the difference for yourself.
Overview
Robust functionality;

Customizing the assistant according to your preferences in appearance and gender;

Toolkit for creating chatbots.

Dialogues are not well-thought-out.

Supported OS
#8. X.ai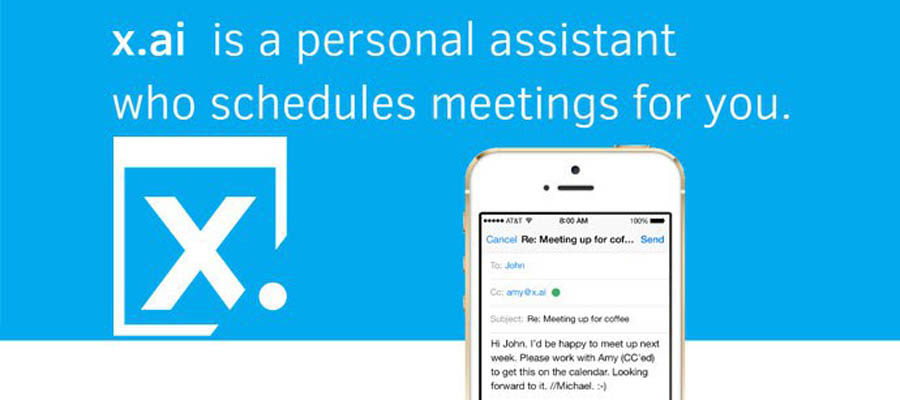 X.ai is an assistant with a very limited range of performed tasks. It operates via the user's email and can set up meetings there per the user's request.
Unfortunately, there is no way we can call this virtual assistant an 'all-purpose' one, even though it performs the tasks it was created for quite well. Its advantages, in their turn, include well-thought-out conversational functionality – talking to X.ai seems to be almost identical to talking with a real person, – and its perfect adaptability for performing business tasks. Basically, if you can't afford a personal assistant, this application will be a solid alternative.
Overview
Well-designed functionality for having conversations with the user;

Well-integrated with Microsoft Office apps.

A very limited set of tasks.

Supported OS
#9. Viv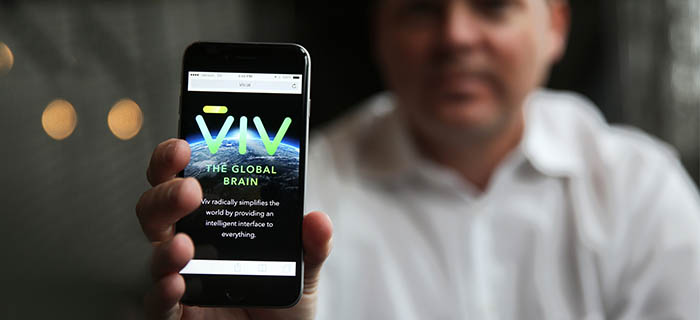 Viv is another solution created by Siri developers. Unlike its predecessor, it is open-source. Basically, this assistant allows developers to spread their products using an intelligent conversational interface. Writing your own commands is a secret perk of Viv functionality. In fact, this is an app that writes itself. Sounds great, doesn't it?
However, regular users can't enjoy all the perks of Viv yet – the program is still in the learning stage. Nevertheless, the vociferous statements made by Dag Kittlaus, one of Viv's main developers, create the hype even among hardcore skeptics. This is why we can't wait to experience the technological supremacy of this solution ourselves.
Overview
The assistant of a new generation;

Can write its own commands (the program writes itself)

Is in the self-learning and testing development stage.

Supported OS
#10. Ozlo
Ozlo is an AI-based startup that got recently purchased by Facebook. Initially, this personal assistant for Android and iOS was supposed to be used to search for entertainment places. Today, it is positioned online as a potential Siri killer – first and foremost, due to its ability to compare data from several sources simultaneously.
On the other hand, a conversation with Ozlo remains to feel dull and lifeless. However, we believe that perfecting this attribute won't be an issue for Facebook developers.
Overview
Analyzes data from several sources simultaneously;

Integration with third-party apps.

Supported OS
Summary
In this article, we have introduced you to our list of AI assistant apps. Perhaps, thanks to analyzing the above-mentioned solutions, you will be able to understand what trends are preferable in the development of such software and which trends are outdated and long gone.
In any case, we are always here to help you create the best personal assistant app! Our team offers you the best price-quality ratio and, what is more important, help you position it properly for your target audience to make sure it withstands the competition with other solutions in this niche.