Nowadays, nearly 80% (eighty percent) of the world's population uses a smartphone or other type of mobile device. And it's not surprising—mobile apps can do pretty much anything these days. They connect us, educate, entertain, guide, and so much more. But that's only as far as personal use goes.

From a business perspective, mobile apps can easily add value to your company and contribute to its growth. They can automate work workflow, increase staff efficiency, and even save some money. Furthermore, it is important to note that enterprise mobile app development differs from the consumer mobile app development process. So what is exactly enterprise mobile development and how can your company benefit from it? Let's find out!

We've built 200+ apps for global businesses. Let us help create yours.
What is an Enterprise Mobile App?
Enterprise mobile applications are types of mobile apps that are built by (or for) individual organizations. The goal is to enable employees to carry out their duties more efficiently so that an organization can operate smoothly. Therefore, contrary to the consumer mobile apps which are intended for the general market, enterprise mobile apps are meant to be used by the employees of a given organization only.

For example, a company may need to build a transportation management system (TMS) to keep track of its shipments and keep in touch with its buyers. A TMS would be considered an enterprise application since it was intended to be used internally by the company employees. On the other hand, if the same organization developed an app to let third-party companies easily book the fleet from them, then such a solution would not fall under the definition of the enterprise mobile app.

Enterprise mobile apps often combine a few software into one which simplifies the everyday processes of companies (and reduces costs). Plus, mobile apps add another level of convenience and even time-efficiency to on-site and remote employees.
Types of Enterprise Mobile Apps
There are as many different enterprise mobile apps as companies and their individual needs. However, if we wanted to somehow classify them, then it would be best to consider different levels within an organization that could use an app for their daily work.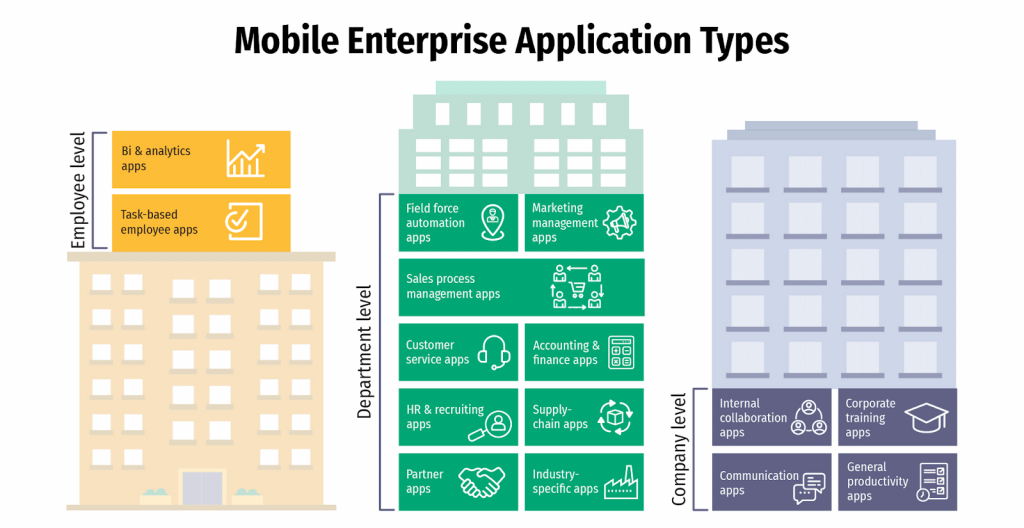 Employee level
On the employee level, you'll find applications designed to help employees carry out a specific task or solve a single type of problem. For example, applications specializing in Business Intelligence (BI) and analytics help managers and data analysts follow important KPIs and measure the success of their initiatives.
Department level
Here, enterprise mobile apps are designed for those employees who work for a particular department (or team). Here, department-level enterprise apps have a much broader scope as their goal is to enable whole teams to do their work better.

For example, a department-level enterprise mobile app could allow HR specialists to track recruitment and onboarding processes; customer service agents to communicate with the customers via text or voice-enabled applications; help accountants keep track of finances and all the finances-related matters.

There are, of course, many more examples. The point is that the role of a particular enterprise mobile app will depend on the organization's structure and the industry they operate in.
Company level
The company-level apps are to be used by the entire organization. Here, enterprise mobile apps foster collaboration by helping organization employees stay connected. They could also enable workers to participate in internal training (educational apps) or boost their productivity through activities planning and tracking (productivity apps).
What is Enterprise Mobile Application Development?
Enterprise mobile application development is the process of building and deploying mobile applications to help enterprise organizations engage with various stakeholders, including customers, partners, and employees.

As mentioned earlier, enterprise apps differ from consumer mobile applications, and so does the process of development of such apps. First, similar to other corporate systems, enterprise mobile apps are concerned with databases and data transfers. Any error, such as application downtime, security breach, or data loss, could cost the company a lot. For that reason, enterprise mobile apps must be very secure and consistent across all devices and platforms.

Second, enterprise mobile apps must fit into the existing organization's technical infrastructure and comply with the said organization's legal requirements. Those requirements include privacy (data access, collection, sharing, storage, and use), legal rights to the app, and the necessary permissions (e.g., location, access to the speaker or camera).
Benefits of Enterprise Mobile App Development
The benefits of having an enterprise application integrated with the company's "bloodstream" are numerous and depend on the app type and its purpose. Typical benefits of deploying enterprise apps are as follows.
1. Easier HR Management
The work of the HR department goes beyond recruitment and onboarding. People working in this department often need to be available during odd hours or communicate with the employees who are out of the office or traveling. Therefore, an enterprise mobile app tailored for the HR department could enable HR officers to get in touch with the company employees at any time from anywhere, without the need to wait for anyone to log in to their desktop device to reply.

Another core function of the HR enterprise mobile app could include absences and payrolls management.
2. Efficient Accounting
Accounting professionals need constant access to their files, applications, and other business data to keep the books updated. But being limited to the desktop devices can slow down the work processes, and consequently—it could further lead to missed deadlines. Accounting enterprise mobile apps can solve this problem. Mobile accounting enables remote access to the data at any time and accountants can work on the go from any device that is connected to the Internet.

Furthermore, enterprise mobile apps can facilitate a better collaboration of accountants with tax professionals, CPAs, and other professionals. They can do this by acting as a centralized platform where the accounting professionals can share, access, and edit any file at the same time without worrying about system configurations.
3. Better Logistics Management
The logistics business is one of the most complex businesses. It needs to take into consideration dozens of different factors to manage with each other. By using the latest technologies, the logistics industry would be able to serve goods and services more efficiently and faster.

Enterprise transport and logistics mobile apps can help increase productivity by tracking the processes, transport expansion, load management, and load planning. They can also replace or complement the paperwork process and store all the necessary data in the company's database.
4. Workflow Optimization
An enterprise mobile app fosters collaboration by bringing all the employees together to a single platform for communication. Forget about lost emails, missed calls, or printed paperwork. All of these can be part of one robust mobile application that will connect on-site and remote employees without installing and checking every time a set of individual apps.
5. Improved Data Management
Enterprise data management (EDM) is the process of storing and governing the business's data. On the other hand, data management means making sure the employees have the accurate and timely data they need and that they follow your standards for storing quality data in a standardized, secure, and governed place.

Enterprise mobile apps fit very well into the EDM process as they enable employees to access the most reliable data from a secure single-source solution. Employees will know how to access data and where to look for it, so they can carry on with their activities without unnecessary delays. Moreover, since data is stored in one place, an app can help improve operations related to data processing, analysis, verification, and adjustment.
Enterprise Mobile Application: How Much Does it Cost to Build?
Until all the app functionalities, type of the development service, and the required team members are identified, it's impossible to provide the exact price for the enterprise mobile development service.

However, looking at the general statistics can give you a fine idea of what the enterprise app development costs look like in certain regions. Based on several surveys run by Clutch, Kinvey, VDC, and EMM, the average costs for mobile development services range between $100,000 for a simple app and $500,000 for a feature-rich app.

Feature-rich applications tend to be more expensive, but that's not the only factor to consider when planning a budget for enterprise mobile app development. Another significant impact on the price is the location of the development team.

Considering the hourly rates, the most expensive countries to source software specialists from are the US, Canada, Australia, and Western Europe. On the opposite end, you'll find Eastern Europe, Asia, Latin America, and India (data comes from UpWork, Clutch, and GoodFirms platforms).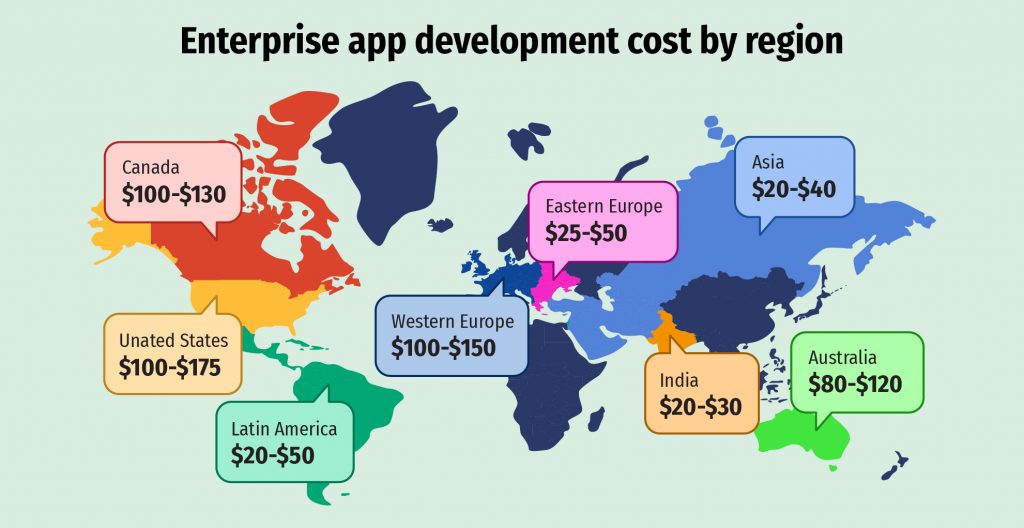 If you are looking for the lowest price, India, and Asia will be your best choice. But be aware that a great price doesn't always mean great quality. Employers outsourcing their enterprise mobile app development often report issues with communication, poor organization, and insufficient attention to the customer's requirements.

Whereas specialists from Western Europe generally have a solid reputation. The best offshore outsourcing development destination in this region includes Ukraine, where you can get an affordable price and a high-quality end product. You'll find many Ukrainian outsourcing companies that will build your enterprise mobile app for about $25 to $60 per hour.
How IDAP Group Can Help You With Enterprise Mobile App Development
Enterprise mobile app development and integration process is different than the one of consumer-facing mobile apps. Because of that, building enterprise-grade mobile apps is challenging, time-consuming, and expensive. But the investment and effort can outweigh the drawbacks, especially if you consider outsourcing a job to a dedicated development team.

With over 10 (ten) years of professional experience and more than 200 projects delivered, the IDAP Group is a reliable and trusted software development services provider. We use the latest technology and best design and development practices to ensure your application will be secure, scalable, and seamlessly integrated with your existing infrastructure.

Summary
Even though enterprise mobile application development can be challenging, enterprise apps are worth the money and effort. So, if your company doesn't have an enterprise mobile application yet, you may want to consider investing in one. Enterprise mobile apps are an essential step toward digital transformation that can save your resources, streamline the workflow, and reduce operational expenses.
The benefits of developing a custom enterprise mobile app are massive but so can be the time, cost, and effort. Luckily, you can reduce the costs significantly, forget about the hassle of hiring an in-house development team, and make sure that your app is delivered on time. Here at IDAP Group, we know how to build secure cloud-based mobile applications. Contact us to take your first step toward turning your enterprise mobile app project into a reality.